Bharti AXA Life eProtect Plan
What is the Plan all About?
To keep your family safe and protected is of prime importance. It takes effort and time of your life to build a happy and comfortable life for your loved ones. In case of any unfortunate event happens to you, the future of your loved ones needs to be shielded to sustain the same lifestyle which you have provided.
Bharti AXA Life understands, your needs and provides you the plan to protect your loved ones in your absence. Bharti AXA Life presents eProtect plan - a simple, hassle-free, online term insurance plan that guarantees the complete financial protection for your family at the lowest cost in the event of your unfortunate demise. Buying this online term plan is easy and quick.
What are the Key Features?
An affordable online Term Plan
Provide Life insurance benefit
100% sum assured paid to the nominee
Inbuilt feature of family care benefit
Premium Discounts for non-smokers
Hassle free buying and quick Policy Issuance
What are the Plan benefits?
In the event of an unfortunate death of the Life Insured, payout equal to Sum Assured will be provided as a financial indemnification benefit to the nominee.
Family care benefit: Family Care Benefit is an inbuilt exclusive feature where in case of death of the life insured, the Co. will pay 1,00,000 within 48 hours of claim intimation and submission of all applicable claim documents, (only when the policy is active). Also, if the claim is settled, the remaining Sum Assured post deducting the Family Care Benefit of 1,00,000 will be given to the nominee.
Who can Buy the Plan?
| | | |
| --- | --- | --- |
| Factor | Minimum | Maximum |
| Age (as on last birthday) | 18 Years | 65 Years |
| Age at Maturity | - | 75 Years |
| Policy Tenure | 10 Years | 30 Years |
| Premium Paying Term | Same as policy term Years | |
| Premium Paying Mode | Semi Annually & Annually | |
| Sum Assured | 25 Lacs | No Limit (subject to underwriting) |
| Maturity Proceeds | Nil | |
| Plan Type | Online | |
Is any Rider Available with this Plan?
You may opt for the following riders(s):
Accidental Death Benefit Rider

This rider provides 100% Sum Assured in case the death of the Life Insured has happened due to an accident.
Bharti AXA Life Hospi Cash Rider
This rider provides payout of a fixed benefit for each day of hospitalization. It provides a fixed amount benefit in case of the life insured is admitted into an Intensive Unit Care or a lump sum payout in the event of surgery.

(Riders are optional and are available at an extra cost.)
Premium Illustration
Sample illustration of the Premium Amount for an individual of age 25, 30 and 35 years, opting for a Life Cover of Rs 50 lacs or Rs 1 crore as Sum Assured and 25 years as Policy Tenure.
| | | | |
| --- | --- | --- | --- |
| | 25 years | 30 years | 35 years |
| Sum assured = Rs. 1 crore | Rs. 6,200 | Rs. 7,200 | Rs. 9,500 |
| Sum assured = Rs. 50 lacs | Rs. 3,550 | Rs. 4,000 | Rs. 5,200 |

(Note: Premium amount is for a non smoker individual keeping good health conditions at the time of buying this insurance plan)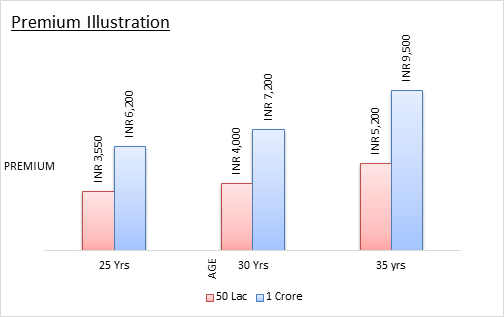 Is the Plan, eligible for Tax Benefit?
eProtect plan is eligible for Tax benefits as stated:
Premiums paid qualify for tax benefits as per Section 80C of the Income Tax Act,1961.
Death benefit(s) are entitled for tax benefits as per Section 10 (10D) of the Income Tax Act.
(Subject to the provision stated therein.)
Similar Products Offered By Other Insurer: