Raman at 35 years, working in an automobile manufacturing company, is married and has a 5 years old daughter. He wants to build a corpus for his daughter's higher studies that would require disciplined savings. He then decides to buy Tata AIA Life Insurance Monthly Insurance Plan with 20 years policy term, pays Rs 5000 monthly premium.
Scenario A: Raman Survives the Policy Term
If Mr. Raman survives till the maturity of the policy term, he gets Guaranteed Sum Assured on Maturity, Accrued Guaranteed Yearly Additions, Vested Compound Reversionary Bonuses, and Terminal Bonus, as the maturity benefit.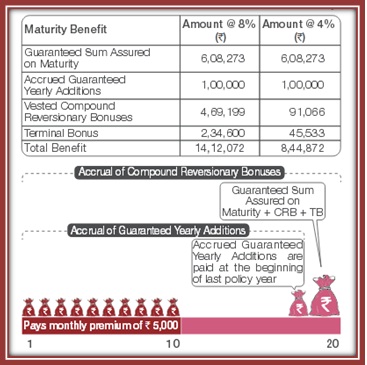 Scenario B: Raman dies during the Term of the Policy
In the event of demise of Mr. Raman during the 12th policy year, a lump sum amount is payable as the death benefit to the nominee. This payout provides financial cover for the family.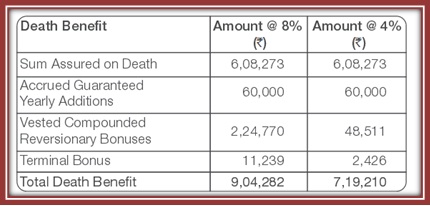 Please Note: The bonus illustration mentioned above has been determined by assuming investment returns of 8% and 4% respectively. These rates of return are non-guaranteed and these are not the upper and lower limits of the returns you might back at maturity.