Let us understand the plan with the help of an illustration.
Mr. Raman at 35 years, wants to enhance his wealth, so he can fulfill his family's dreams. Not only this, he also wants to provide financial protection for his family. He thus opts to buy Edelweiss Tokio Life – Single Pay Endowment Assurance Plan with policy term of 10 years, pays single premium for Rs 1 Lac with sum assured of Rs 10 lacs.
 
Scenario A: Raman Survives the Policy Term
If Mr. Raman survives till the end of the policy term, the guaranteed maturity benefit is payable at the maturity of the policy. This maturity benefit can be utilized to fulfill his family's dreams.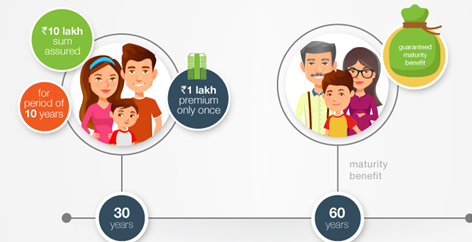 Scenario B: Raman dies during the Policy Term
In the event of demise of Mr. Raman during the 8th policy year, a lump sum of Rs 10 Lacs is payable as the death benefit to the nominee. This payout provides financial security for the family.