Get Quotes from Top Insurers with Lowest Premium
Enter Details > Get Quotes > Buy

Your privacy is protected.


Unbiased information on plans from varied insurance companies

Easy comparisons to choose the best insurance plan

No hidden costs, pay the same premiumas offered by the insurer

Pre and post sales expert assistance for smooth online buying experience

Reliable, Accurate and Quick policy servicing
MetLife Family Income Protector Plus
What is the Plan all About?
MetLife Family Income Protector Plus is a non linked, non participating term assurance plan that gives you the elasticity of opting your premium and monthly income for your loved ones. This plan offers protection against death during the course of the policy term. This plan also offers a variant with return of paid premiums back in case the life insured survives the policy term.
2 Variants are available under this plan:
Term Without return of Premium
Term With return of Premium
What are the Key Features?
Guaranteed monthly income up to 20 years for your family
Flexible monthly income options
Assured death benefit to the nominees
Get 110% of your base premium back as maturity benefit
Tax free Terminal Benefit under section 80C & 10 (10D)
What are the Plan benefits?
In the event of death of the life insured during the policy term, the nominee will receive the monthly income amount selected by the life insured at the commencement of the policy.The monthly income options are Rs 10,000, Rs 25,000,Rs 50,000,Rs 75,000 and Rs 1 lac.The first payout is made at the end of one month from the date of death.Benefit payout period will vary as per the chosen policy tenure.For a 10 year term, benefit payout period is 240 months, For a 15 year term, benefit payout period is 180 months, For a 20 year term , benefit payout period is 120 months.The nominee has also given the option to take the death benefit as lump sum income rather taking t as monthly income.
The maturity benefit is applicable if the policyholder has opted for a term with return of premium.The policyholder will receive 110% of the premiums paid if he or she survives the policy term.
No Loan benefit is applicable under this plan.
A lapsed policy can be revived upon written request, produces evidence of insurability and on payment of all overdue premiums within 2 years from the date of first unpaid premium.
Surrender value is available under the plan variant" Term with return of premium" and is paid if first 3 years premium are paid.Surrender value will be higher of Guaranteed surrender vlue or special surrender value. For more details refer the policy brochure.
Who can Buy the Rider?
| | | |
| --- | --- | --- |
| Factor | Minimum | Maximum |
| Age (as on last birthday) | 25 Years | 60 Years and 55 Years for policy term of 20 Years |
| Age at Maturity | - | 75 Years |
| Policy Tenure | 10/15 Years | 20 Years |
| Premium Paying Term | Same as policy term | - |
| Premium Paying Mode | Annually, Semi Annually and monthly | - |
| Monthly Income | Rs 10,000/Rs 25,000/Rs 50,000/Rs 75,000 | Rs 1 Lac |
| Sum Assured | Rs Rs 14.20 Lacs | Rs 0.95 Crore |
| Freelook Period | 15 Days from the receipt of the policy | - |
| Grace Period | 30 days / 15 days (for monthly mode) | - |
| Plan Type | Offline | - |
Is any Rider Available with this Plan?
No riders are available with this plan.
Is the Plan, eligible for Tax Benefit?
Plan qualifies as per the provisions of the Income Tax Act,1961 for the tax benefits under Section 80C and 10 (10D).
How Does the Plan Work?
Let us understand the plan with the help of Raman's example.
Raman bought MetLife Family Income Protector Plus for Sum assured of Rs 50 Lacs for a fixed term of 10 years with return of premium option.
Scenario 1: Raman Survives the Policy Term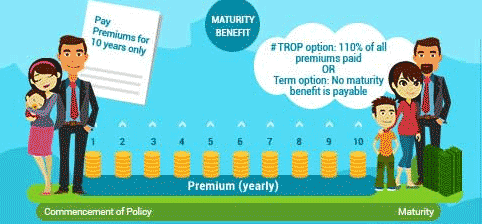 Raman will get 110% of the all premiums paid back on maturity.But with term without return of premium nothing is payable on maturity.
Scenario 2: Raman dies during the Policy Term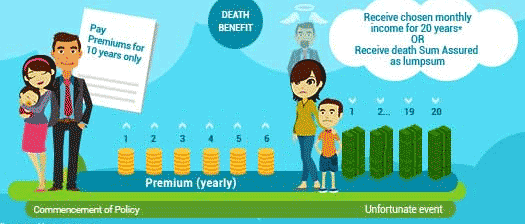 Nominees will receive the chosen monthly income for 20 years or can take the entire sum assured as lump sum as death benefit and policy terminates.
Buy Now