Get Quotes from Top Insurers with Lowest Premium
Enter Details > Get Quotes > Buy

Your privacy is protected.


Unbiased information on plans from varied insurance companies

Easy comparisons to choose the best insurance plan

No hidden costs, pay the same premiumas offered by the insurer

Pre and post sales expert assistance for smooth online buying experience

Reliable, Accurate and Quick policy servicing
Max Life Whole Life Super
What is the Plan all About?
Max Life Whole Life Super is a traditional participating whole life insurance plan that provides protection up to 100 years of age. In the event of your death during the policy term, the family will receive a death benefit that will help them to take care of all their financial expenses. This policy also provides an option to withdraw money to meet any financial exigencies, without surrendering the policy. The maturity benefit is payable on the attainment of age 100 years of the insured.
What are the Key Features?
Guaranteed lifetime protection till 100 years
Flexible Premium Paying Terms to choose
Lumpsum Payout at Maturity
Flexible bonus options
Flexibility to withdraw money during life's Milestones
Opt for Riders to enhance the policy coverage
What are the Plan Benefits?
On your death within the policy term, the death benefit is paid as: Guaranteed Death Benefit + Accrued Paid - Up Additions (if any) + Terminal Bonus (if any).
Guaranteed Death Benefit is higher of 105% of all premiums paid (on date of death), or 11 times the Annualised Premium, or Guaranteed Maturity Sum Assured.
The policyholder gets the maturity benefit on attaining 100 years of age or immediately after attaining this age.
Maturity Benefit= Guaranteed Maturity Sum Assured + Accrued Paid Up Additions (if any) + Terminal Bonus (if any).
In case the Life Insured is suffering from an illness that may lead to the death of the life insured within six months of diagnosis, according to the opinion of a Registered Medical Practitioner and the company's appointed doctor, the insured become entitled to receive 50% of the Guaranteed Maturity Sum Assured (up to the maximum cumulative amount of Rs 10 Lacs) immediately upon request from the policyholder, subject to approval of the claim filed.
It is an additional bonus amount paid as one time on death or surrender or maturity (whichever is earlier) on a condition that the policy is premium paying for at least 10 continuous years.
No loan can be availed under this policy.
This policy does not lapse after it has acquired the surrender value and it will become Reduced Paid Up that can be revived within 2 years from the due date of the first unpaid premium.
This policy acquires a surrender value on payment of first three years' premium. Surrender benefit is higher of Special Surrender Value or Guaranteed Surrender Value.
Who can Buy the Plan?
Factor
Minimum
Maximum
Age (as on last birthday)
18 Years

60 years (for 10 years PPT)

55 years (for 15 years PPT)

50 years (for 20 year PPT)

(PPT: Premium Paying Term)

Age at Maturity
-
100 Years
Policy Tenure
-
Up to 100 Years of age of the life insured
Premium Paying Term
10/15 Years
20 Years
Premium Paying Mode
Monthly, Quarterly, Semi Annually & Annually
-
Premium Amount
Rs 8,500
No Limit (subject to underwriting)
Guaranteed Maturity Sum Assured
Rs 50,000
No Limit (subject to underwriting)
Freelook Period
15 Days from the receipt of the policy
-
Grace Period
30 Days (15 Days for monthly mode)
-
Plan Type
Offline
-
Is any Rider Available with this Plan?
The following riders are available with this plan for the payment of an additional premium.
1. Max Life Term Plus Rider which provides additional risk coverage in case of death.
2. Max Life Accidental Death & Dismemberment Rider provides a lumpsum benefit in case of death / dismemberment due to accident.
3. Max Life Waiver of Premium Plus Rider which waives off future premiums on the death of the insured.
What are the Bous Options?
The plan offers flexibility to choose among the 3 Bonus Options:
1. Paid in Cash: Bonus declared will be paid to the life insured in cash.
2. Premium Offset: Bonus declared will be used to offset the future premiums.
3. Paid - Up Additions (PUA): Bonus will be used to purchase additional Sum Assured which increases the benefits under the policy.
Is the Plan, eligible for Tax Benefit?
Max Life Whole Life Super Plan is eligible for Tax benefits as stated:
Premiums paid towards this plan qualify for tax benefits under section 80C of the Income Tax Act, 1961.
Policy proceeds are entitled for tax benefits as per Section 10 (10D) of the Income Tax Act.
(Subject to the provisions stated therein.)
How the Plan Works?
Let us understand the Plan with Pratiskshit's example:
Pratikshit Sharma is a 35 year old married person having a child who is 1 year old. Pratikshit wants to create a legacy for his son by saving sytematically. He also wants to create a corpus/fund from where he can withdraw money in case financial exigencies. He decided to buy Max Life Whole Life Super Plan with a Guaranteed Maturity Sum Assured of Rs. 18.66 Lacs, and Premium Payment Term of 20 years. His Annual Premium comes out to be Rs. 50,000 (without taxes, levies and loading extra). The Bonus Option chosen is Paid - Up Additions.
MAX LIFE WHOLE LIFE SUPER OFFERS INCREASING DEATH BENEFIT AND LIQUIDITY THROUGH BONUS OPTION OF PAID - UP ADDITIONS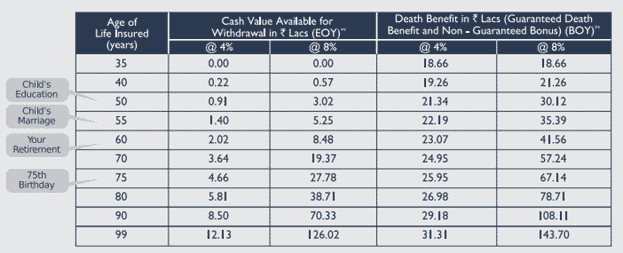 Pratikshit gives Rs. 10 Lacs and gets on Maturity (@ 4%) = Rs. 31.6 Lacs; Pratikshit gets on Maturity (@ 8%) = Rs. 1.48 Crores.
(Note: The non - guaranteed assumed rates of returns chosen in the above example are 4% and 8% and the mode of premium payment is Annual.The Cash Value, Death Benefit, Maturity Benefit will change (reduce) if the customer withdraws money from the policy (by surrender of Cash Value of PUA) in between the policy term).