Let us understand the plan with the help of below illustration.
 
Mr. Raman at 30 years, wants to buy a plan that can help build wealth along with the financial cover for the family. He thus opts to buy LIC's Jeevan Pragati plan with the policy term of 16 years, pays the annual premium of Rs 9,570 for 16 years and the basic sum assured is Rs 1.5 Lacs.
 
Scenario A: Raman Survives the Policy Term
If Mr. Raman survives till the end of the policy term, a lump sum of Rs 1.5 Lacs plus vested Simple Reversionary bonuses and Final Additional bonus is payable. This maturity benefit can be used to achieve long term financial goals.

Scenario B: Raman dies during the Policy Term
In the event of demise of Mr. Raman during any policy year, Rs 1.5 Lacs along with vested Simple Reversionary Bonuses and Final Additional bonus is payable as the death benefit to the nominee. This payout provides financial security for the family.

Benefit Illustration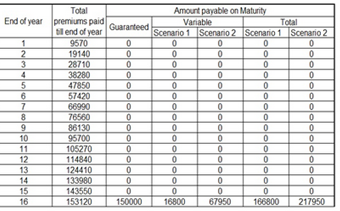 Note: The non-guaranteed benefits as illustrated above are calculated at Projected Investment Rate of Return of 4% per annum (scenario 1) and 8% per annum (scenario 2), respectively.