Get Quotes from Top Insurers with Lowest Premium
Enter Details > Get Quotes > Buy

Your privacy is protected.


Unbiased information on plans from varied insurance companies

Easy comparisons to choose the best insurance plan

No hidden costs, pay the same premiumas offered by the insurer

Pre and post sales expert assistance for smooth online buying experience

Reliable, Accurate and Quick policy servicing
IDBI Federal Incomesurance Guaranteed Money Back Insurance Plan 7Pay
What is the Plan all About?
Incomesurance Guaranteed Money Back plan is a plan which ensures guaranteed income that enables you to attain a peace of mind and be assured about a safe financial future.The plan offers limited premium payment for 7 years and get life cover for 14 years.The plan offers guaranteed annual payouts irrespective of the market volatility.
BUY NOW
What are the Key Features?
Periodic payback during the policy term
Limited premium payment term
Flexibility to choose your premium
Offers Critical Illness Benefit
Protect your family with life cover
Guaranteed Annual payouts
Get Tax Benefit under prevailing tax laws
What are the Plan Benefits?
Death Benefit
In case of the unfortunate event of death of the life insured during the policy term, your nominee will get the death sum assured, which is the highest of:

Guaranteed Sum Assured on maturity*
10 times of annualised premium
105% of all premiums paid (including extra premiums and modal loading)
Basic Sum Assured (An absolute amount of 10 times premium, including extra premiums and modal loading)
Sum of all Guaranteed Annual Payouts (GAP)

Survival Benefit or Critical Illness Benefit already paid, if any, will not be deducted from the Death Sum Assured.
Survival Benefit
The plan offers annual payouts on survival of the life insured till the end of each year starting from the 8th policy year up to the 14th policy year. The Guaranteed Annual Payouts (GAPs) received under this plan depend the annual premium and the age at the policy commencement.
Maturity Benefit
There is no Guaranteed Sum Assured payable on maturity. The last GAP will be made on survival to maturity.
Critical Illness Benefit
In case the life insured is diagnosed with a critical illness (from a list of pre-defined critical illness covered under this benefit), a lump sum total of the guaranteed annual payouts, proportional to the premiums received, is paid out immediately to help with the treatment and other expenses.

During Premium Paying Term: CI Benefit = GAP x No of premiums paid

After Premium Paying Term:CI Benefit = (GAP x No of premiums paid) – Sum of GAPs paid till date of claim (if any)

(No further GAPs will be paid under the policy after the critical illness benefit is paid out. However the life cover continues till the end of the policy term. No further survival benefits are payable. There is a survival period of 30 days from diagnosis for claiming Critical Illness benefit. If policyholder dies during the survival period, critical illness benefit shall not be paid and only death benefit shall be paid)
Bonus
The plan is not eligible for any bonus as it is a non participating plan.
Loan Benefit
The loan you can avail will be from a minimum of Rs.5,000 and limited to 85% of the guaranteed surrender value at the time of application, subject to terms and conditions
Surrender Value
The surrender value payable will be higher of the Guaranteed Surrender Value (GSV) and Special Surrender Value (SSV) provided 2 full years' premiums have been paid.
Tax Benefit
The plan helps in getting tax benefits under section 80C  and section 10 (10D) of the Income Tax Act,1961.
Who can Buy the Plan?
| | | |
| --- | --- | --- |
| Factor | Minimum | Maximum |
| Age (as on last birthday) | 10 Years | 50 Years |
| Age at Maturity | 24 Years | 64 Years |
| Policy Tenure | 14 Years | 14 Years |
| Premium Paying Term | 7 Years | - |
| Premium Paying Mode | Annual | - |
| Premium Amount | Rs 35,000 | Rs 20 Lacs |
| Freelook Period | 15 Days/ 30 Days (for Distance Marketing Channel) From The Receipt Of The Policy | - |
| Grace Period | 30 Days | - |
| Plan Type | Offline | - |
Is any Rider Available with this Plan?
No Riders are available under this plan.
How the Plan works?
To help you understand this better, let us take the example of Mr. Mohit aged 20 years. Mr. Mohit decides to invest Rs. 2,00,000 per annum in his Incomesurance plan. He invests this amount every year for the first 7 years of his policy. From the end of the 8th policy year, he starts receiving his Guaranteed Annual Payouts of Rs. 2,86,000 every year till the 14thyear of his policy.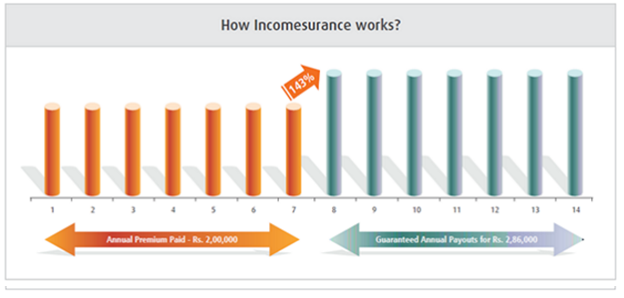 Premiums are payable at the beginning of the year and payouts at the end of the year.