Let us understand the plan with the case study of Rahul.
Name of Life insured: Rahul
Occupation: Sales Manager
Age of Life insured: 32 years
Family Structure: A wife (appointed as a nominee) and a 2 year old kid
Policy term: 15 years
Sum Assured: Rs 5 Lacs
Scenario 1: If Rahul dies during the policy term
The benefits are payable to the nominee (Rahul's wife)  which is the highest of the following:
Sum Assured on Death (Rs 5 Lacs) + Accrued Guaranteed Additions + Accrued Reversionary Bonuses + Interim bonus (if any) + Terminal bonus (if any)
105% of premiums paid till date
Scenario 2: If Rahul survives the policy term
Rahul will receive an aggregate of the following as maturity benefit:
Sum Assured on maturity (Rs 5 Lacs)
Accrued Guaranteed Additions
Accrued Reversionary bonus, Interim bonus and Terminal bonus, if any.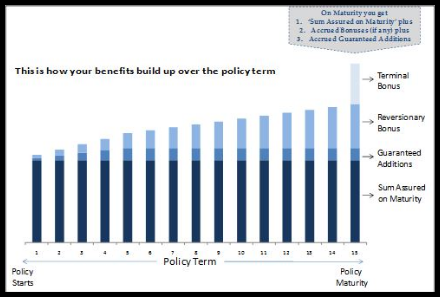 Scenario 3: If Rahul dies an accidental death
Rahul's nominee will receive an additional sum assured of Rs 5 Lacs along with the death benefit as the accidental death benefit rider  benefit is inbuilt in the plan.