Mr. Raman aged 35 years, is leading a happy life with his wife Ananya and a daughter Sanya. He wants to build a corpus amount, so his family can achieve their dreams such as Sanya's education, her marriage, etc. He also wants to ensure financial security of the family, in case of a mishap. He thus opts for Future Generali Easy Invest Online Plan with the policy term of 15 years, annual premium of Rs 50,000 and sum assured of Rs 5,00,000.

Scenario A- Maturity Benefit: In case of his survival till maturity of the policy, the Total Fund Value is payable at maturity. You can receive this benefit as a lump sum or as periodic installments by using 'Settlement Option'. Loyalty Additions also enhance the fund value.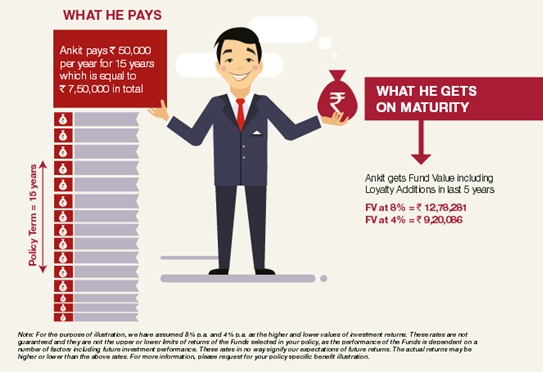 Scenario B- Death Benefit: In the event of his death during the policy term, the Death Benefit payable is Sum Assured (less Partial Withdrawals), Fund Value, or 105% of the total premiums paid till the date of death.