Raman at 35 years, wants to buy Future Generali Assured Money Back Plan to get regular money backs along with life protection. He opts the plan with the policy term of 20 years, premium paying term of 10 years, and the sum assured is Rs 5,00,000 with the annual premium of Rs 56,805.

Scenario A: Raman Survives the Policy Term

If Mr. Raman survives till the maturity of the policy term, he receives Rs 50,000 every year from the 11th to the 19th year. He will also receive Rs 5,50,000 on maturity date.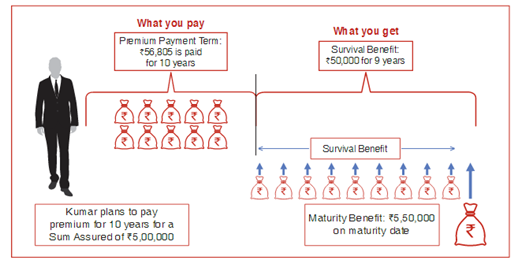 Scenario B: Raman dies during the Term of the Policy

In the event of demise of Mr. Raman during the 4th policy term, Rs 5,68,050 is payable to the nominee. This payout helps nominee to get the financial assistance.