Let's understand this benefit with the help of an example:
Life Insured: Krish
Age: 30 years old
Plan Details: Future Generali Assured Income Plan
Premium: Rs 1 Lac as annual premium (excluding taxes, rider premiums, extra premiums and cess)
Premium Payment Term: 15 years
Maturity Benefit:
He will receive `34,00,000 over the next 15 years. Let us explain how? He will receive `2,00,000 every year from the end of the 16th to the 30th year. Plus, in the last year i.e., the end of the 30th year, he will enjoy an additional income of `4,00,000.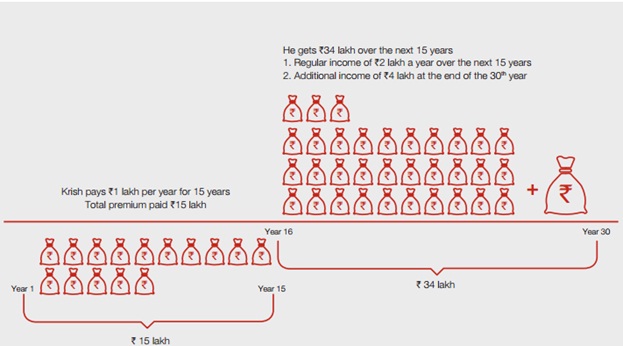 Death Benefit:
He pays the premium for 4 years and unfortunately expires during the 4th policy year. In this case, the nominee will receive `2,00,000 as the first payout when the death claim is settled and thereafter for 14 years on Krish's death anniversary. The nominee will also receive an additional benefit of `4,00,000 along with the last instalment.
The nominee/assignee gets Rs 34 lakh over the next 15 years
 1. Regular income of  Rs 2 lakh a year over the next 15 years
2. Additional income of Rs 4 lakh along with the last instalment