Let us understand the plan with the case study of Rohit
Name of Life Insured: Rohit
Age: 35 years old
Profession:  salaried individual working with an MNC
Family Structure: Wife who is a homemaker and a son who is 1 year old.
 
Rohit invest in this plan for a period of 15 years. He wishes to receive Rs 3,000 as Guaranteed Monthly Income. His premium payment term will be 7 years.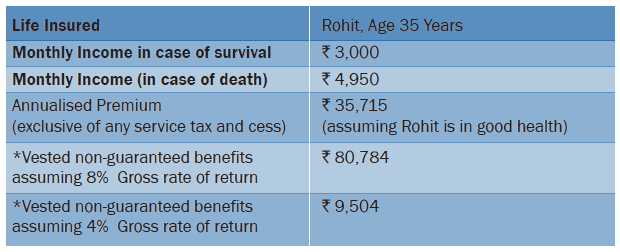 Plan Benefits:
 
1.Rohit starts receiving Guaranteed Monthly Income of Rs 3,000 by the time his son is 8 years old. With this Rohit can ensure that he fulfills the dreams and needs of his growing son.
 
2. In case something unfortunate happens to him, before Maturity of the policy,he secures his family as they receive Monthly Income of Rs 4,950 until 8 years.