Age of Life Insured: 30 years
Policy Term Chosen: 20 years with premium paying term of 12 years
Amit (life insured) chooses Guaranteed Monthly Income (GMI) of Rs 3,000 per month and the Sum Assured becomes Rs 4,32,000. The premium amount will be Rs 31,788 per annum (Income variant) and Rs 32,211 per annum (Assure variant).


In the event of death of Amit at the end of 8th policy year, the nominee is entitled to receive the death benefit as depicted below.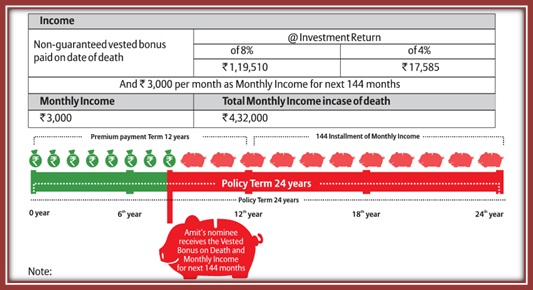 Please Note: Premium shown above excludes any extra premium, service tax, cess, & rider premium. The returns are indicated @ 4% and 8% and these rates of return are not guaranteed and are not the lower or upper limits of returns.