Let us understand the plan with the example:
 
Age of Life Insured: 30 years
 
Naresh (life insured) opted policy term and premium paying term of 25 years. He chose a Guaranteed Maturity Benefit of Rs 6,00,000 with annual premium of Rs 58,424. Sum assured under this scenario is Rs 5,84,240.
 


In the event of death of Naresh during 17th policy year, the nominee will receive the following death benefit: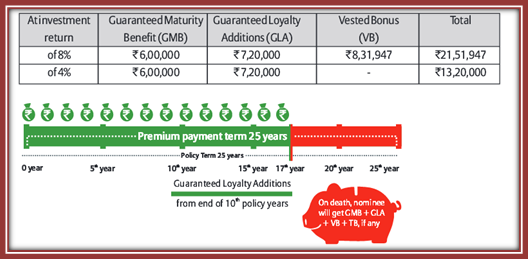 Please note, vested bonus at the assumed rate of investment is at 8% & 4% and it is non-guaranteed and it is for explanatory purpose only.