IRDAI Claim Settlement Ratio (CSR) 2016-17
The insurance regulator IRDAI, recently has published its Annual Report for the Financial Year 2016-17. The report also throws light on the "Claim Settlement Ratio" of the insurance companies in India.
What is Claim Settlement Ratio (CSR)?
As the name suggests, Claim settlement ratio is the percentage of claims settled by the insurance company out of the total claims reported in a given financial year. It is a ratio derived as Death claims settled over claims reported.
Claim Settlement Ratio = Total claims settled / Total claims received*
Where Total Claims received * =  Claims reported in the financial year plus claims pending at the start of the year
The claim settlement ratio (CSR) is not for a particular type of insurance plan like CSR of a term plan or unit linked insurance plan rather it is a claim settlement ratio based on cumulative death claims received by the insurance company for individual life insurance policies. Claim Settlement Ratio of the insurers above 95% is considered exceptional and claim settlement ratio above 90% is considered good to go with.
Claim Settlement Ratio for the Financial Year 2016-17
Life Insurers
Claims Pending at the start of the period
Claims Intimated
(FY 2016-17)
Total Claims (Claims Pending + Claims Intimated)
Claims Paid
(FY 2016-17)
CSR%
(FY 2016-17)
LIC
3914
765472
769386
756399
98.31%
Max Life
4
9817
9821
9606
97.81%
HDFC Life
79
12645
12724
12421
97.62%
Aegon Life
5
583
588
571
97.11%
SBI Life
298
17312
17610
17027
96.69%
ICICI Prudential
33
10868
10901
10539
96.68%
Exide Life
17
2956
2973
2866
96.40%
Tata AIA
0
2707
2707
2599
96.01%
Canara HSBC OBC
4
649
653
620
94.95%
Birla Sunlife
266
5782
6048
5727
94.69%
Reliance Life
183
10896
11079
10473
94.53%
Edelweiss Tokio
3
161
164
153
93.29%
Bharti Axa
86
792
878
811
92.37%
Bajaj Allianz
423
15816
16239
14887
91.67%
Kotak Life
92
2739
2831
2583
91.24%
DHFL Pramerica
13
458
471
428
90.87%
Aviva
10
1235
1245
1128
90.60%
IDBI Federal
20
1045
1065
962
90.33%
Sahara Life
25
700
725
654
90.21%
Future Generali
17
1349
1366
1223
89.53%
PNB MetLife
26
3853
3879
3380
87.14%
Star Union Life
191
1282
1473
1238
84.05%
India First
50
1691
1741
1439
82.65%
Shriram Life
272
2654
2926
1859
63.53%
Industry Figures
6031
873462
879493
859593
97.74%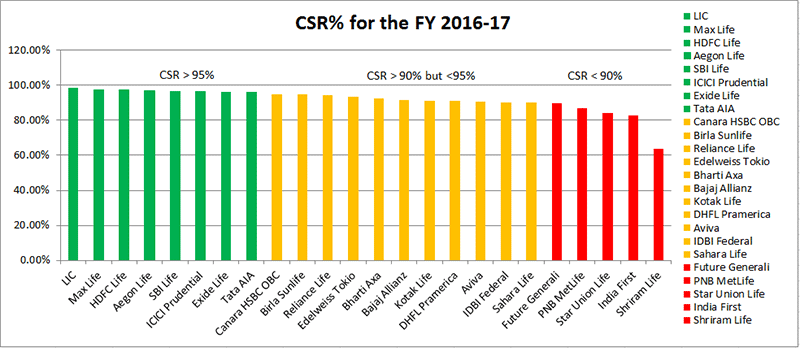 Key Findings:
There are eight life insurance companies which makes up to the top Life insurers with more than 95% as Claim Settlement Ratio which are LIC (with highest claim settlement ratio) followed by Max Life, HDFC Life, Aegon Life, SBI Life, Kotak Life, Exide Life & Tata AIA.
There are eleven life insurance companies having Claim settlement ratio (CSR) greater than 90% and less than 95%. Such life insurance companies are Canara HSBC, Reliance Life, Bharti Axa Life, Bajaj Allianz, Aviva, Sahara Life, etc.
For the financial year 2016-17, the life insurance companies collectively had settled 8.60 lakhs claims on individual policies, disbursing Rs 13,850.62 crore as total payout. The number of claims repudiated/rejected was 12,769 in number amounting to Rs 657.77 crore collectively.
For private insurance companies, settlement ratio had gone up by 2.24 % at 93.72% during the financial year 2016-17 compared to 91.48% during the previous year.
The repudiation came down to 4.85 % in the year 2016-17 compared to the 6.67 % in the previous year.
The industry settlement ratio increased to 97.74 % in 2016-17 from 97.43% in 2015-16 and the repudiation ratio decreased to 1.45% compared to the 1.73% in 2015-16.
Why it is Important to Check CSR before you Buy a Life Insurance Policy?
Settlement of Claim is one of the most important services which is provided by an insurance company. The fundamental of buying a life insurance policy is with an intent to provide the financial security to the family of the life insured as discussed earlier. Financial security comes into picture in the case of an untimely or unfortunate demise of the life insured. Settlement of death claim by the insurance company is the most important and essential event in the times of distress for the family members of the deceased.
That's why knowing the reliability of a company regarding its claim settlement is very much necessary. This index determines the claim settlement capacity of the life insurance company. Claim Settlement Ratio is an indicator about the insurance company's approach towards  the settlement of reported death claims. Higher the claim settlement ratio, the greater are the chances of settlement of claim. Also, it depicts good reputation regarding the claims processing. Higher the claim settlement ratio, better is the insurance company.
Higher the claim settlement ratio, the more favorable it would be for the policyholder. That's why one should always look for a Claim Settlement Ratio figure before buying a life insurance policy. However, this is one of the factors to be looked upon before buying a life insurance policy and must be compiled with other important things to finalize the insurance plan and insurance company.
Key Important Things Regarding Claim Settlement Ratio (CSR):
The Claim settlement ratio is not for a particular type of product. It is a common death claim settlement ratio. But for the life insurance products like Term Plan, looking at a claim settlement ratio is all the more important as pure Term Plan offers only death benefit.
Higher claim settlement ratio depicts the greater settlement of death claims by the insurance company out of the total death claims reported. Higher the number of CSR better are the prospects and likelihood of the settlement of a death claim by the insurer. Lower claim settlement ratio implies that the insurer has rejected a large number of claims out of the total reported.
Claim Settlement Ratio for the current financial year is certainly important to look upon. But the past trends of claim settlement ratio are also imperative to be considered to judge the consistency of the insurance company. (see the last 5 years Claim settlement ratios of the Life Insurance Companies)
The claim settlement ratio is an important factor to consider before you buy a life insurance plan, but overlooking other important things is not prudent. It is important to give due weightage to the plan features, benefits, policy wordings, inclusions & exclusions, etc.
Claims can be rejected based on the wrong information provided by the policyholder at the inception stage. One should always provide the factual data to the insurance company. The insurance company is not always responsible for rejection of claim as there are many cases of impersonation, misrepresentation and fraud claims.
The claim settlement ratio could be lower for the new entrants in the industry as they have limited business initially and death claims are very less to be reported which could lead to low claim settlement ratio.