How IDV Affects Car Insurance
Having a car insurance policy is mandatory in India, but just buying and keeping your car insurance policy active can keep you away from various benefits of car insurance policy. That's why making a well informed decision while buying a car insurance policy is very much necessary because a car insurance policy involves many features and factors, and one such important factor of car insurance policy is Insurance Declared Value.
So let us understand the various aspects of IDV and how it affects car insurance through this article.
IDV
Insurance Declared Value (IDV) is the maximum sum assured which is paid to the policyholder in the case of total loss, constructive loss or in case it gets stolen or damaged beyond repair within the policy period. That's knowing the correct IDV is important, otherwise you might receive an inadequate compensation.
How IDV is calculated
IDV value is calculated on the basis manufacturer's selling price subtracted by the rate of depreciation. The IDV of the accessories in your car which are not factory fitted, are calculated separately at extra cost if insurance is required for them.  The depreciation rate is calculated on the basis of age of the car. More the age of the car, higher will be the percentage of depreciation. The depreciation schedule is as follows
| | |
| --- | --- |
| Age of Vehicle | % depreciation for adjusting IDV |
| Not exceeding 6 months | 5% |
| Exceeding 6 months but not exceeding 1 year | 15% |
| Exceeding 1 year but not exceeding 2 years | 20% |
| Exceeding 2 years but not exceeding 3 years | 30% |
| Exceeding 3 years but not exceeding 4 years | 40% |
| Exceeding 4 years but not exceeding 5 years | 50% |
If your car is more than 5 years old then the IDV is calculated on the basis of mutual understanding between the insurer and insured.
You also need to understand the IDV of your car is calculated on the basis of the current value of your car, not at the price at which you purchased the car.
For example, if you purchased a car on January 2015 at the price of Rs.15.1 lakh but the price of the car decreased and now in February 2017, it is Rs.12.8 lakh then the IDV of your car will be calculated on the basis of Rs.12.8 lakh, not on Rs.15.1 lakh.
The formula for calculating IDV is as follows:-
IDV = (Manufacturer's listed selling price- depreciation) + (Accessories that are not included in the selling price- depreciation) and excludes registration and insurance costs.
Why declaring correct IDV is important?
As explained earlier, the IDV value is the total amount which you will get as compensation to total loss or theft of your car during the policy term. Therefore, choosing an IDV which is closer to the market value of the car is considered as an ideal decision.
If you opt for a lower IDV for your car, then you  will get the benefit of lower premium because lower the IDV is, the lower the premium will be. But you must understand that in the jostle of low premium, you might get a lower amount in compensation and if the IDV falls short of what loss you have suffered then you will have to pay from your own pocket for recovery.
The relation between premium amount and Insurance Declared Value can be understood from the graph illustrated below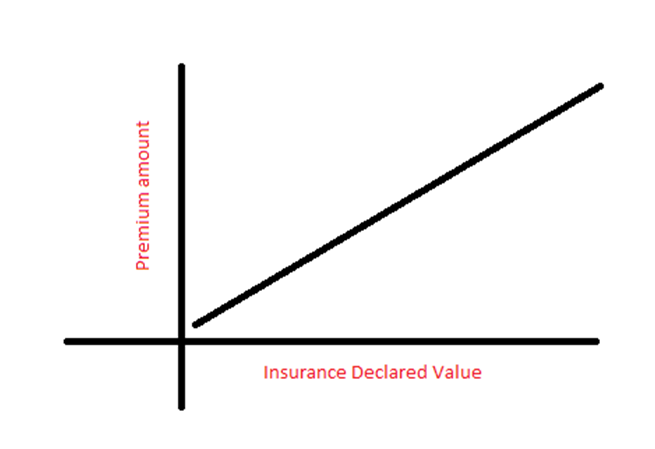 Factors used by insurers to calculate IDV
Details of car registration
Registration date or first purchase
Vehicle Description
Cubic Capacity
Ex-showroom price
Current registration type- individual owner or company owned
Location where the car is registered
Manufacturer, make and model of the car
Understanding the various factors which affect your IDV value and choosing the correct IDV will allow to get the right compensation under your car insurance policy in case of loss or theft of your car. But you should never fall for the trap of lowering down your premium by choosing a low IDV because such decision can cost you a lot in future.